Press Kits and Posters
You may download a Fambul Tok Press Kit by clicking here.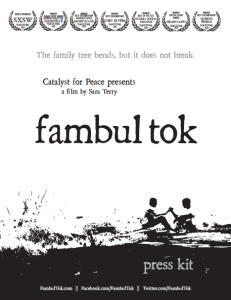 For the Fambul Tok poster art, click here to download.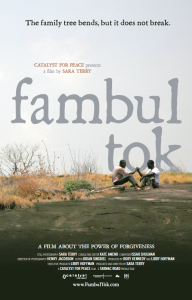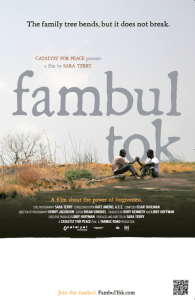 Or you can customize a Fambul Tok poster with your particular event details– a customizable poster template, is available by clicking here.
For the Wan Fambul/One Family benefit album–you can download a press kit here.
Press Photos
The photos below are available to the press as print-resolution files. Please contact us to request a password to download your selection(s). All photos © Sara Terry for Catalyst for Peace.

Kai10.jpg
Site of the Community Consultation in Kailahun, where Fambul Tok Staff met with local stakeholders to ask whether they wanted to launch the program in their district.

RiceHarvest2.jpg
Women celebrating a rice harvest on a community farm in Madina, Kailahun District, which brought victims and perpetrators to work together after a local Fambul Tok ceremony.

WalkHome1.jpg
Nyumah (left) and Sahr, just a few days after the dramatic bonfire ceremony that restored their friendship.

GbekeduBonfire.jpg
A community gathers to hear the testimony of victims and perpetrators at a bonfire ceremony in Gbekedu, Kailahun District.
Press Releases
Another way to promote your event is with a press release circulated to area media. You can download a customizable Press Release Template by clicking here.
For press inquiries, click on one of the following contact names: Marian Koltai or Freida Orange at PMK*BNC.
For press inquiries regarding the Wan Fambul/One Family album, click here to contact Rock Paper Scissors.
return to top of page