BONUS TRACK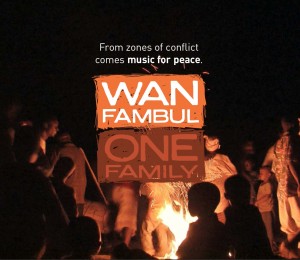 JOIN THE FAMBUL …
Enjoy your welcome gift — the Eccodek Trance Canada Remix of Bajah
+ The Dry Eye Crew's "Wi Na Wan Fambul". The original version of the song is track #1 on the Wan Fambul/One Family benefit album.


ONE GIFT, TWELVE TRACKS.
From zones of conflict comes music for peace. Catalyst for Peace presents Wan Fambul/One Family, a high-energy, urgent call for forgiveness and deep dialogue from edgy DJs to soulful singer-songwriters, from hard-hitting reggae outfits to transnational pop explorers. This groove-powered compilation features tracks by global music heavyweights Vieux Farka Toure, Idan Raichel, Vusi Mahlasela and Dengue Fever, and is only available by a donation to the groundbreaking grassroots peacebuilding efforts of Fambul Tok in Sierra Leone.


A Voice of Peace: Eccodek
Canadian producer, remixer and multi-instrumentalist Eccodek (a.k.a. Andrew McPherson) works with inspired singers and gifted multi-instrumentalists from the four corners of the globe to find a common love for dub, funk, jazz and cinematic electronics. Eccodek is the sound of cultures mingling, borders dissolving. It is the sound of the sub chamber, the goatskin drum and decaying vintage synths. Eccodek's tracks are built on a foundation of global beats, soaring melodies, and textured electronica that has firmly established the project as a leader in global fusion.

return to top of page